Quick hit today in the "DVD extras" blog for Tranquility Tour. As always, you can learn more about Tranquility Tour at tranquilitytour.com, follow us at  #tranquiltytour on Twitter, Like Tranquility Tour on Facebook, and come back here to An Uncommonly Silly Blog anytime for the extras.
—
If you listened to the SLC podcast, you heard me refer to the wind in Wyoming as, "like being pushed by the hand of God," which is hopefully not as blasphemous as it sounds, but felt literally true. The gusts were over 50mph and the sustained winds were 30mph. Basically, it felt like flying through bad turbulence, which is probably not good. Steering into the wind while going straight was not a tranquil experience, but the landscape was amazing and it was the first time it really felt like we were "out west."
Take a listen to the SLC podcast:

—-
We got our first snow of the Tour… pictures tell the story better than I can type: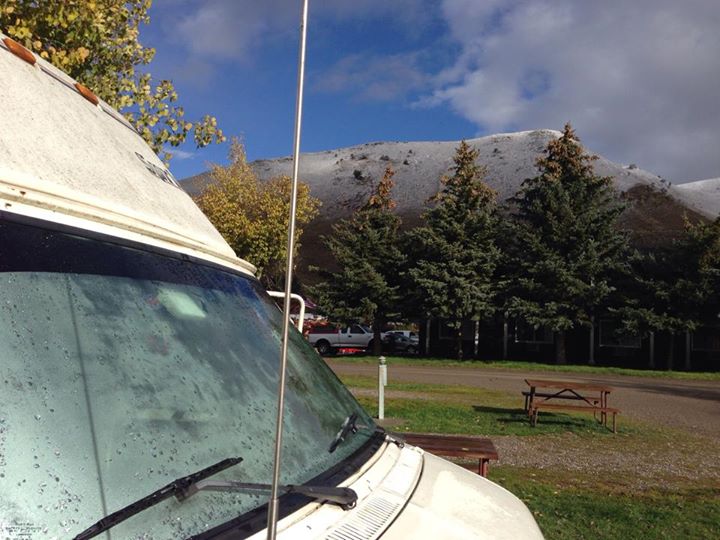 Sadly, the shutdown means we won't get much closer to the snow-covered Tetons than the US highway. Hopefully we'll get some good looks, although I know we miss out on Jenny Lake, which is a real bummer for me.
—
RVing tips… freezing cold weather is a bad thing for campers, unless they are specifically built as 4 season vehicles. Why? Water lines for important things like sinks and toilets are exposed in typical campers (like Lillie) so more than a day or two exposed to sub-freezing temps can mean burst water lines or (worse…) ruptured holding tanks. So, after some googling, here's the recommendation: drain and dump your tanks, blow out your water lines as best as possible and pour a gallon of windhield washing fluid in your gray (waste water from sinks) and black (um, do I need to say what this has in it?) tanks. This isn't a full winterization thing, it's just for handling a few freezing nights like we will. The ambient heat inside the camper is usually enough to handle things, but this gives extra piece of mind. The downside, of course, is no running water… but that's a small temporary price to pay for piece of mind.
RVing knowledge is highly specialized I'm learning!